Size Matters Charters Customer Reviews
Ratings & Reviews Summary -
5.0014 reviews
SP
Scott Partington
March 16, 2023
We had a great trip with Captain Regina! She is a very nice person and knows where to go to get the fish. We ended up with 17 yellow tail snappers that tasted wonderful.  Her mate was also a great guy and very professional.
Read More
We've definitely enjoyed the company of Capt. Regina and her Mate Eric. Booked a trip for my family. Eventhough not all of us were passionate about fishing, Size Matters Charters showed us a high level of patience and entertainment so my whole family had a great day on the water. Mate Eric helped the kids learn their skills in dropping the bait, recognizing the bite, and getting the fish to the boat. We caught a couple of yellow snapper. Then we trolled deeper blue water and got a good amount of mahi mahi and a tuna- great fun. We then tried deep dropping. Three types of fishing in one trip! Capped off with a massive hammerhead sighting and a sea turtle blessing! Great Captain, great Mate, great boat, and great equipment! We'd do this again any time!
We went out with these two on New Year's Eve 21 and had a great time, Other than me getting sick. Eric was very knowledgeable and Regina was a great captain. We'll def go back if we ever visit the keys again.
no more
Size matters crew were impressive. Everything was prepared for us when we arrived which allowed us to get onto the water with no delay. Captain Reg gave us clear instruction about our trip. Had an Amberjack on my line 5 minutes after dropping it in! They were all friendly, informative, and very helpful with our inexperienced group. No complaints at all other than the day had to come to an end!
no more
Best fishing trip ever captain Regina and mate Eric were very nice, extremely knowledgeable, and did everything possible to catch fish, especially one very large one. It was a wonderful trip. I highly recommend them and will most definitely use them when I return.
no more
Regina and her first mate were absolutely amazing! It was our first time to go offshore fishing but Regina and crew made her feel so comfortable! We caught lots of fish like yellow tail to have cooked to our liking at the resort but my biggest catch was the beautiful shark in the video I'm posting. Regina goes above and beyond to accommodate passengers! At the end of the charter she gives you a tshirt or sunshirt with her size matters logo as a final awesome touch! I can't wait to come back again and fish with them again. 100% recommend snagging Regina if you can!!!
We were greeted at the marina as scheduled and headed out to the reefs, wrecks, and humps to fish. Yellowtail and silk snapper along with other species were willing to take our baits. We were taken to six different locations in pursuit of catching fish and the captain knew where to go along with how to catch them. The captain was knowledgeable, personable, and willing to work to get you on the fish. I wouldn't hesitate to charter another trip with Size Matters. Good job Captain!
SM
Scott Martino
August 10, 2021
We enjoyed everything about our trip. Very relaxing and accommodating. Our three kids had a blast catching fish and enjoying the boat ride. Regina and Ulysses were fantastic with our two small girls and took the time to show and help them out. Of course, they put the most fish in the box. We will definitely book again.
no more
The captain knew the perfect spots to catch yellow tail snapper and mangrove snappers. We caught 20 fish total and we had Lorelei cook it for us. I would go out with her again. She is a lot of fun and very knowledgeable
no more
AM
Anthony Mongeluzo
August 2, 2021
Captain Regina and Mate Timmy were great. They treated our family of 5 great on our half-day trip. Captain put us on top of fish at multiple locations with lots of action for our family. They were also very informative explaining in great detail what species we were targeting. We had a nice haul that provided us with a delicious meal. Captain Regina recommended a great local restaurant that provided "hook and cook" for our snapper. Will definitely go out on Size Matters next time we are in Islamorada!
Captain Regina and Ulysses were great! Very laid back and helped with the fishing as much as we needed. This was our first fishing charter and we were pleasantly surprised that she cleaned the fish and gave us shirts at the end! Would have liked to stay out longer but my motion sickness wasn't allowing it - but in only about an hour of actual fishing we caught 12 yellowtail snappers (plus plenty more that were too small to keep) and a barracuda! Plenty for dinner that night, which we cooked ourselves but most restaurants around will cook your fish for you. Definitely a good time!
KD
Kyle Davisson
August 1, 2021
Captain Regina and Tim gave us an amazing trip catching yellowtail snapper! They are definitely experts of the area and know the best spots to limit out. Couldn't be happier with the experience and I would recommend Size Matters Charters to anyone. I'll definitely be back to book them again!
no more
RM
Raelene Morrison
July 11, 2021
Amazing trip, captain Regina and her first mate were great! Very personable and did their best to make sure we were welcome and found some fish even in unfavorable seas! Can't wait to go out with them again.
no more
"Regina is great! She's super flexible and will craft the fishing trip based on what you want. Her boat and fishing gear are clean and current. The entire experience is enjoyable and seamless, with her handling all of the logistics so you can just enjoy the day. Her prices are very reasonable, and you leave with fish you can eat for the rest of your vacation. You even get t-shirts at the end, which we loved! My dad and I decided to do a fishing charter during our week in the Keys. We were so lucky to find Size Matters, as her operation makes for a much more personal and affordable day of fishing than any other outfitters we could find. We are by no means avid fisherman, but Regina was very patient and knowledgeable in assisting us and teaching us about the marine life. The day ended up being our favorite activity of our trip. We would highly recommend it!"
Read More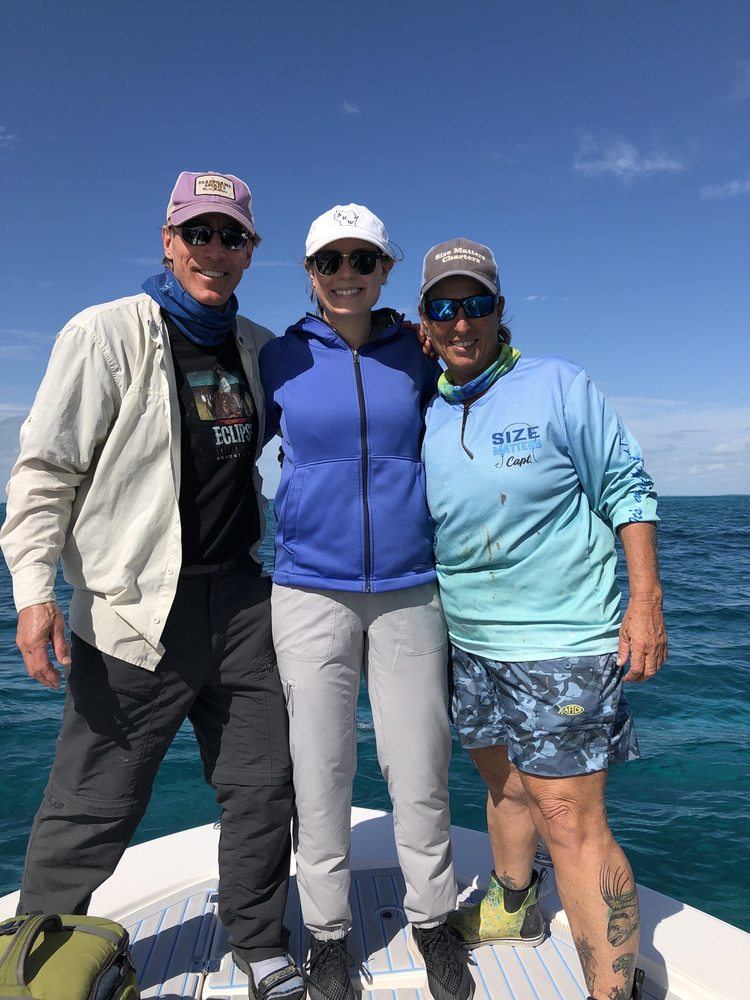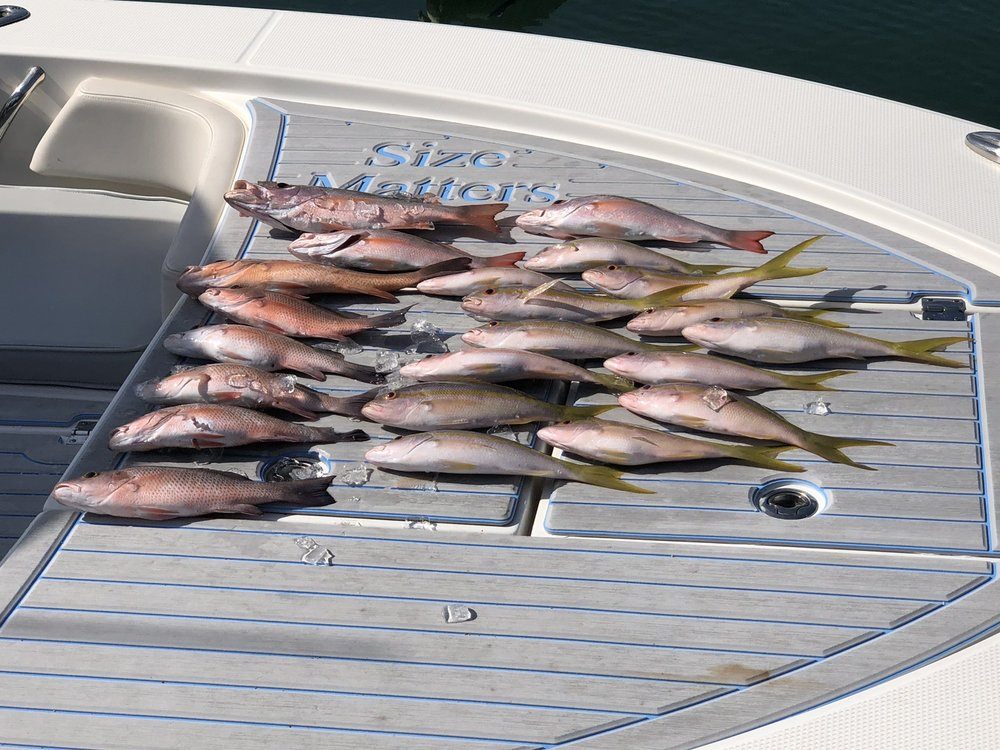 Top Rated Fishing Charter in Islamorada
Size Matters Charters Customer Reviews are provided by our guests. We focus on providing our Islamorada, FL Fishing Charter guests the very best experience. Our Fishing reviews are from trips in Atlantic Ocean, Florida Bay, Florida Keys, West Lake, Key West, Atlantic Ocean.